Must-Tries at Yishun Park Hawker Centre
---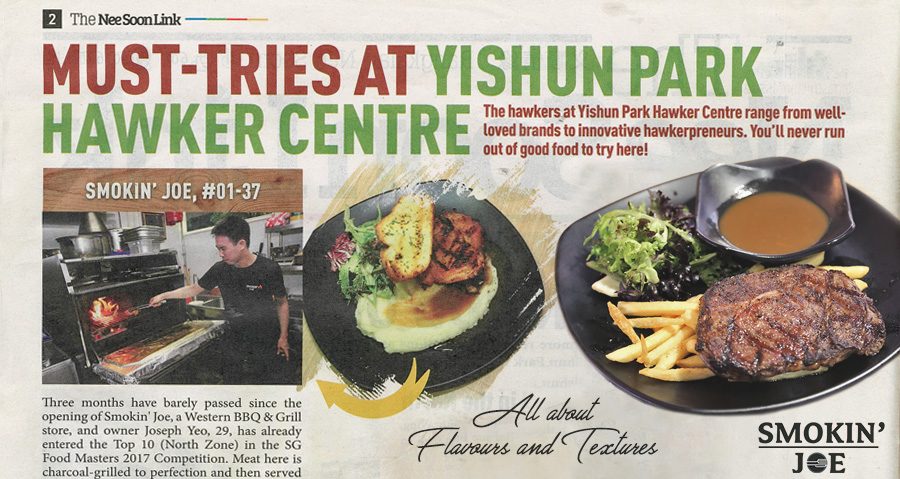 Three months have barely passed since the opening of Smokin' Joe, a Western BBQ & Grill store, and owner Joseph Yeo, 29, has already entered the Top 10 (North Zone) in the SG Food Masters 2017 Competition. Meat here is charcoal-grilled to perfection and then served sizzling hot from the Josper grill, the same kind that celebrity chefs like Gordon Ramsay use. Joseph feels that the Josper grill imparts a good crispy crunch, yet seals in natural juices without much oil.
Joseph revealed, "I offer restaurant food at hawker prices. The ingredients I use are of high quality, such as Antarctic cod, Kurobuta pork and Wagyu beef."
Signature dishes include the BBQ Boneless Chicken Leg and Wagyu Beef Burger. Succulent, tender and aromatic, these dishes hint at his stints in fine dining restaurants for over six years. You can also order medium rare salmon here, something truly special in a hawker centre.
Prices are on the higher side, but as compared to bistros and restaurants, despite serving almost the same dishes, our menu items are definitely cheaper. We do not compromise on food quality, but we try our best to remove the "price of atmosphere" to cater to the market in between restaurants and hawker centres.
Read the full article here.